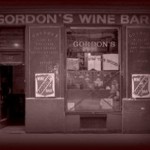 Yesterday, enjoyed a very pleasant afternoon that started in Gordon's Wine Bar (London's oldest, apparently) and ended on the terrace by the Royal Festival Hall, overlooking the Thames. First warm afternoon for a good while.  
While I've lived in and around London for nigh on ten years I very rarely visit or look at any of it, because it's full of scary weirdos…
 Yesterday was an exception, meeting cousins and generally enjoying a few drinks and a catchup.
Gordons is a strange place near Embankment. A proper old cellar, the sort of place that you might describe as a den, possibly of iniquity. It was really more of a den of very middle class people drinking quite expensive wine, but it looked great nonetheless. A highly grumpy eastern european girl served us lunch, which was big lumps of cheese and bread (this is a Good Lunch) and we sat outside. Near the sunshine, but not in it.
When that got a bit too cold, it was over the river to sit in the enormous suntrap that is the terrace outside the Royal Festival Hall, drinking overpriced lager but generally enjoying the view and having a natter. Most pleasant. Can tell it was good because I completely forgot to take any photos. Huzzah!