Sadly, the world is full of eager hosts who promise splendid caffeine-based refreshment but deliver something woeful and insipid – more akin to hot brown water than the real thing.
So here's the recipe for perfect, instant coffee. None of your posh chrome filter automatic bean grinding £1,000 coffee machine here, oh no. That's for people with more time and money than sense need for caffeine.
This is coffee from a jar kind of coffee, because it's cheaper, quicker, and if done properly much more effective.
Seven steps to coffee nirvana
For the perfect cup of coffee, you will need:
A jar of normal instant coffee. Something Fairtrade, just in case.
Fresh cold semi-skimmed milk
Sugar if required
A kettle
An adequate supply of power and water and gravity etc
A mug. Thick, not delicate.
A teaspoon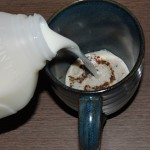 Step 1: boil yer kettle.
Step 2: while it's boiling, add one to two teaspoons of coffee into your mug: the more the merrier. Add sugar to taste – white or brown. I'm quite fond of demerara at the moment.
Step 3: add milk to taste, but put in a fair bit. We're aiming for strong and milky, and sweet if that's your thing. There are people who think you should start tea with milk, and add it to coffee after. They are crazy people.
Step 4: leave the milk, coffee and sugar to form a pasty substrate while you wait for the kettle to boil.
Step 5: when the kettle has boiled, wait 'til it's stopped bubbling.  And then a bit more. NEVER MAKE COFFEE WITH BOILING WATER. Nevereverever. It ruins the milk and burns your mouth.
Step 6: when kettle nirvana has been achieved, pour water steadily into mug and stir while  pouring. Don't fill the cup to the brim, that's just annoying: it makes it too hot, ruins the mix and you'll probably spill it. Three-quarters full is perfectly adequate.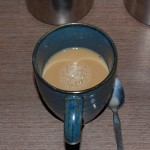 Step 7: drink. Enjoy the sensation of coffee that is strong, milky, smooth and sweet, and that doesn't burn your tongue.
If it's not all of those things, experiment. The water was probably too hot. Maybe your mug is a bit large and you need more of everything, or less of something. It's all about achieving a fine balance.